Will we have an on-time budget?
March 8, 2023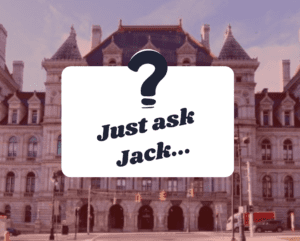 Our Jack O'Donnell on crunch time in Albany… and the gas ban backlash. Listen to his interview with the "A New Morning" team on WBEN here.
Budget Sessions to Extend into April?
February 27, 2023
"Don't make any travel plans in April," Jack cautions. He lays out the budget issues that may be headed for a showdown with the Legislature. Read more in this report from Capital Tonight's Susan Arbetter.
Will GOP opposition move the needle on the Governor's new energy policy?
February 28, 2023
"The reality is, I'm in Albany today, I'm walking the halls, and there are flyers everywhere from advocates, saying don't let the fossil fuel industry deceive you, don't let them trick you. So there are some really loud voices on both sides of this, and the reality is we've got a Democratic Governor, a supermajority in the Democratic State Senate, a supermajority of Democrats in the State Assembly, " says our Jack O'Donnell.
Listen to more gas ban reactions in this report from Brayton Wilson of WBEN.
On the Proposed Natural Gas Ban
February 23, 2023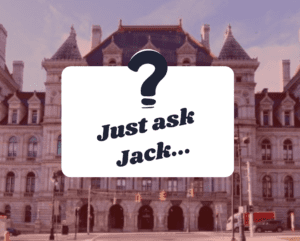 Will the growing opposition to the natural gas ban have any impact in Albany? Where does the Governor's plan stand in the Legislature?
Our Jack O'Donnell joins WBEN's 'A New Morning' team with the inside track.
Lawyers Urgently Calling for Grieving Families Act Passage
February 17, 2023
Attorneys for families of the Tops shooting victims in Buffalo are calling on Governor Hochul to reverse course and sign the Grieving Families Act, which would expand the scope of damages in the case of a wrongful death. "…Expect [the Act] to be reintroduced by the sponsors, but it's a ways away from becoming law," says our Jack O'Donnell. More from WBEN's Tom Puckett.
Power Player in Corporate Social Responsibility
February 6, 2023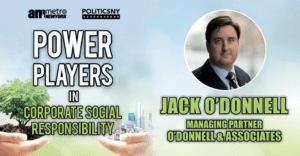 Congratulations to our Jack O'Donnell, recognized by PoliticsNY and amNY Metro as a Power Player in Corporate Social Responsibility. Read more here.
Legislative Pushback on the Budget
February 2, 2023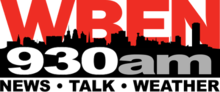 "I think we're set up for a couple of real fights here between the governor and the legislature," says our Jack O'Donnell. Listen here as Jack highlights some of the Executive Budget proposals facing legislative pushback in this report from WBEN.
Reaction to the State of the State Address
January 16, 2023
Governor Hochul delivered her State of the State address. Will the spirit of cooperation continue as Hochul moves forward on the ideas she laid out in her speech? Our Jack O'Donnell reacts from Albany with Jordan Norkus and Dave Greber of WIVB. Watch here.
O'Donnell on the Upstate Power List Again
December 2, 2023
Congratulations to our Managing Partner Jack O'Donnell on being named to the City & State New York Upstate Power 100 list (#30) which "features high-ranking elected officials, as well as local politicians, business executives, university presidents, heads of advocacy organizations, labor leaders and nonprofit heads who are key players outside of the downstate region."
"I'm honored to be included on City & State's Upstate Power list again this year, a recognition that reflects the work of our entire team at OD&A. While my name is on the door, our wins—passing legislation, helping our clients secure resources, delivering results—are a collective effort. If you are not already familiar with our stellar team, click here to learn more about the people behind the success of OD&A," says O'Donnell.
Buffalo Bills Stadium Deal and the election
October 20, 2022
Inside Planet Albany
March 28, 2022
Jack O'Donnell gives insight into the process of getting a sports stadium deal done in New York State. Listen to the WBEN broadcast
here
.
Insights into Cuomo's Next Steps, the Bills' Stadium, and More
March 21, 2022
Is Andrew Cuomo really planning to run again? What is t
he latest on state funding for a new 
Buffalo Bills
 stadium?
Jack tackles these subjects and more with the morning crew at 
Wben-Am News Talk 930
.
Listen
here
.

March 9, 2022
Governor Cuomo's Fee for Service carve out set to go into effect in 2023 is expected to impact the healthcare of our state's most disadvantaged residents. Missed our webinar on Health Equity in New York State? Watch it 
here
.
Buffalo Company Partners with Bobcat, Case on 100% Electric Construction Equipment
November 20, 2020
Today, Viridi Parente's revolutionary Green Machine technology is being used in 100% electric construction vehicles for two of the giants in the industry: Bobcat and Case Construction. More
The Working Families Party's Fuzzy Future
October 13, 2020
""The new, higher standard is a big test for the Working Families Party; especially ironic at a time when the WFP is fielding more candidates, forcing primaries, and winning more races," political analyst Jack O'Donnell of O'Donnell & Associates told Spectrum News. More
Trump Taking a Special Interest in NY-27
June 16, 2020
"That's their line of attack, that he's not a true conservative," O'Donnell said. "So we'll see if voters buy that or if they believe Chris Jacobs and they believe Donald Trump and the host of officials that you mentioned, but I don't think it goes away until the votes are counted." More
Alstom Transport in Hornell Awarded $30 Million in Empire State Development Funds
November 30, 2016
Jack O'Donnell is one of Western New The expansion will retain more than 1,000 existing positions in Hornell and at Alstom's operations in West Henrietta. More
Breaking Down the First Presidential Debate
September 27, 2016
Jack O'Donnell joins a panel to discuss the first Presidential debate with Donald Trump and Hilary Clinton. 

The Political Fallout of the Orlando Shooting
June  13, 2016
Jack O'Donnell joins a panel to discuss the Orlando shooting.