Jack O'Donnell Discusses the Only New York Governor to be Impeached
New York state media is abuzz about the prospect of New York Governor Andrew Cuomo being impeached. Jack O'Donnell is the author of Bitten By The Tiger, the true story of William Sulzer, the only governor to be impeached in New York State history and a contributing author of Impeachment. Because of his unique historical perspective, he has been asked to comment on the prospect of Governor Cuomo being impeached. 
 In the Spectrum News article What History Tells Us About the Likelihood of a Cuomo Impeachment, Jack said, "It happened once under unusual circumstances which means impeachment is something that is very unlikely to happen. . . Impeachment really is a partisan and sometimes a hyper-partisan process. . . Right now in New York, there are a lot of folks who are angry and maybe rightfully so at the way things have gone but really we're only going to see impeachment sort of called out and yelled at and written about primarily from the governor's political enemies."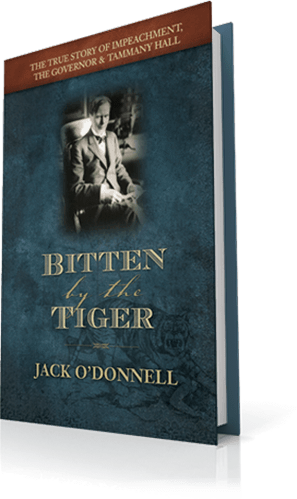 City & State New York covered the story too in Could Cuomo be Impeached? Jack points out the differences between the two situations, "Despite being elected with the help of Tammany Hall, a powerful political machine at the time, Sulzer angered the organization when he refused to appoint Tammany boss Charles F. Murphy's business partner as a state highway superintendent. 'He was really impeached because he got into a battle, a political battle, a battle for supremacy with Tammany Hall,' Jack O'Donnell, an author who has studied Sulzer's impeachment, told NY1 in January, 2020."
Jack also weighs in on WIVB 4's story on Governor Cuomo's press briefing on for-profit nursing home reforms and the underlying issue driving the impeachment buzz in Under Fire, Cuomo Foreshadows For-Profit Nursing Home Reforms.
WMHT's New York Now talked with Jack to, "…look at the only time in New York history that a governor had been impeached – William Sulzer in 1913." Listen here. 
Please contact Joanna Pasceri with any media inquiries.