Jim Moore
Vice President and Policy Director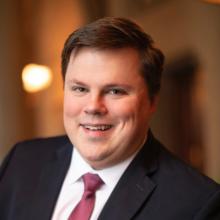 Good Morning from the Nation's Capital... On the heels of Bipartisan Infrastructure, the House passed the centerpiece of President Biden's domestic agenda by a party line vote, 220 to 213, over the unanimous opposition of Republicans. The Build Back Better Act or...
read more
Since 2015, Jim has worked in state and federal government relations. He has represented clients in financial services, healthcare, gaming, energy, and emerging technologies. During that time, he has worked on a vast array of legislation and regulation, ranging from bills impacting safety net healthcare providers throughout the State to measures that help drive the growth of fintech, blockchain, and cryptocurrency industries in New York. Jim has also worked with clients across the State to secure millions in integral investment through the state budget process and federal appropriations.
Prior to his time in government relations, Jim spent over 3 years with current United States Senate Democratic Leader Chuck Schumer, both in Western New York and the Southern Tier, ultimately serving as Deputy Regional Director for the Southern Tier. While working in the Senate, Jim worked on a wide range of issues, from fighting regulations that would hurt the burgeoning craft brewing industry in New York State to ensuring municipalities throughout Upstate New York received adequate federal funding to meet their needs.
Following Tropical Storm Lee in the Southern Tier in 2011, Jim helped spearhead Senator Schumer's advocacy with the Federal Emergency Management Agency and the New York State Department of Homeland Security and Emergency Services and was successful helping the Senator secure funding to rebuild infrastructure, including public safety facilities and schools.
 Jim is a graduate of the University of Vermont where he studied Political Science and Business Administration. He currently resides in Delmar, NY, with his wife, Annie.