FOR IMMEDIATE RELEASE                                                      June 3, 2022
Jack O'Donnell Named to Albany 'Power 100' by City & State NY
The list identifies the political leaders in the state capital who are driving the policy agenda in New York
BUFFALO, NY–O'Donnell and Associates Managing Partner Jack O'Donnell has been named to the 2022 Albany Power 100 list by City & State New York, an online and weekly magazine covering politics and policy in the Empire State.
"Jack O'Donnell is widely known as an expert on Western New York politics and policy, but he's also established a reputation as an effective advocate for his clients in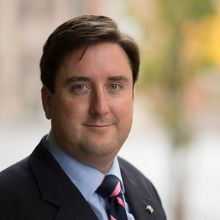 Albany," wrote City & State NY.
"It's an honor to be recognized among the state's top powerbrokers," says O'Donnell. "We are zealous advocates for our clients, committed to delivering results that move our state forward during these challenging times."
O'Donnell has more than 25 years of experience in government, government relations and politics throughout New York State, including stints in the U.S. Senate Office of Charles E. Schumer and the Office of the New York State Comptroller.
The veteran strategist launched O'Donnell & Associates in 2001. The firm offers government solutions, having provided advice to Fortune 500 companies, non-profits, technology firms, labor unions, start-ups, and political candidates. OD&A represents such clients as the New York State Building & Construction Trades Council, Delaware North and the University at Buffalo. OD&A has offices in Buffalo, Albany, New York City, and Washington, D.C.
Jack is a graduate of Canisius College ('96), St. Joseph's Collegiate Institute, and received his Juris Doctor from the University at Buffalo. He lives in Buffalo with his wife and two children.
CONTACT:
Joanna Pasceri
Director of Communications
O'Donnell and Associates
moc.snoitulosllennodo@irecsapj
(716) 445-3425