Michael Cinquanti, Esq.
Senior Vice President & Counsel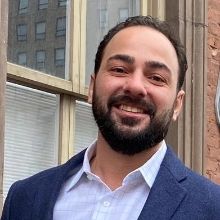 Good Morning from Washington, D.C. Weeks of up and down negotiations between the Biden Administration and Senate Republicans led by Senator Shelley Moore Capito from West Virginia have effectively gone nowhere. Last Thursday, a bipartisan group of ten United States...
read more
With over a decade advocating for clients at the highest levels of government, Michael Cinquanti brings a wide range of insights and relationships to O'Donnell & Associates (OD&A). Michael puts that experience to work, unwinding the legal intricacies surrounding law and regulation-making in New York as well as providing strategic advice, guidance, and planning to help our clients arrive at solutions and achieve results.
In addition to providing advice and counsel to our clients, Michael manages the government relations program of the New York State Building and Construction Trades Council. Prior to joining OD&A, he served as Director of Policy & Planning for the North Atlantic States Regional Council of Carpenters where he managed the legislative agenda of the union in New York, New Jersey, Pennsylvania, Delaware, and Maryland. He has advised various clients in a broad range of activities including procurement, infrastructure, casinos, health & pharmaceuticals, business regulations, and tax law.
Michael's successes include the recent expansion of New York's prevailing wage law, the National Popular Vote interstate compact, the NYS Fair Play Act, and Maryland's wage theft law which was designed to help exploited workers throughout the construction industry.
Recognized as one of Labor's Rising Stars by City & State, Michael is a graduate of Ithaca College and Albany Law School. Since 2019, he has served as a Commissioner for the Albany Port District Commission.