Good Morning from New York,
With only fifteen days until Election Day, polls show former Vice-President Joe Biden holding a lead over incumbent President Donald Trump, but as Jen O'Malley Dillon, Biden's campaign manager said this week, we believe the race is "far closer" than the coverage or many experts are predicting and the electorate is more volatile than any time in the last one hundred years. Similarly, control of the United States Senate is very much up for grabs, while Democrats are likely to keep—and even expand—their majority in the House of Representatives, though several key races are worth watching. In New York State, the race for a Democratic supermajority in the state Senate is drawing more interest, including Ron Lauder, the cosmetics heir, who recently put another $2.9 million into the fight. In reality, Democrats are in firm control throughout the state legislature and their ability to override vetoes will not make it any more likely that they will actually try to override any vetoes.
In reality, Election Day began weeks ago with already over 22 million Americans participating in early voting and absentee balloting. November 3rd really represents the end of a six-week sprint during which a record number of Americans cast their ballots in advance.
After a week of unexpectedly civil Supreme Court confirmation hearings for President Donald Trump's nominee Judge Amy Coney Barrett, the Senate Judiciary Committee will vote to approve her nomination this Thursday at 1:00 pm. The outcome of the nomination is not in question. Republicans are predicting Barrett will sail through and Democrats know there is nothing they can do to stop it. "We have the votes," Senate Majority Leader Mitch McConnell confirmed and her nomination will make history as the closest SCOTUS confirmation to a presidential election.

However, many critics say more could have been done. Abortion rights groups—like NARAL Pro Choice—and other progressives on the Hill are calling for the ouster of Judiciary Ranker California Democratic Senator Dianne Feinstein after she called the hearings "the best hearings that I've participated in" and concluded with a hug for Senate Judiciary Chair Republican South Carolina Senator Lindsey Graham—who, in places like San Francisco and Los Angeles, is persona non grata. In many ways, Feinstein's conclusion of the hearing was a microcosm of the direction of modern politics: although her legacy in California is one of respect, given her lengthy history of public service starting out as Mayor of San Francisco in 1978, her penchant for civility and not rocking the boat feels out of place in today's politics, her critics say.
Whither stimulus negotiations? After President Trump briefly pulled out of COVID relief negotiations and issued several somewhat confusing
calls for standalone bills for an airline bailout and stimulus check—and told Senate Republicans he wanted them to focus on Barrett's nomination instead—he has reversed course, offering a $1.8 trillion proposal.
However, Senate Majority Leader Mitch McConnell announced last week that the Senate will take 
one more shot at a "targeted" coronavirus relief bill
 before the election that is a fraction of that $1.8 trillion, an approach Democrats have repeatedly rejected as insufficient. The Senate package, expected to be about $500 billion and similar in scope to the HEALS Act. That bill would include additional unemployment assistance, more money for schools and health care, new funding for the Paycheck Protection Program (PPP), another round of stimulus checks, and additional liability protections. Both House Speaker Nancy Pelosi and the President are opposed to the Senate proposal, and agree—for once—that Congress should 
"go big or go home!!!"
 Furthermore, Treasury Secretary Mnuchin assured Pelosi that the President would personally lean on any Senate Republicans reluctant to get behind a deal that they reach. There will be a lot of stimulus chatter this week but the stimulus is dead—or at least on hold—until a lame duck Congress or, more likely, January 2021.
The Supreme Court has cleared the Trump Administration to end the 2020 census count early, blocking a lower court order that required the government to continue with the count as originally planned through the end of October. Friday was the last day that responses could be accepted. Advocates who pursued litigation to keep the census going through the end of October said that a shortened timeline would lead to a greater undercount of the population but the Trump Administration claimed an earlier deadline could produce census data for apportionment of congressional districts for the next decade by the end of the year. This could have a dire impact on New York.
Back in New York, we are reminded of some other major consequences of this year's election season. The Working Families Party is encouraging Democrats to vote for Joe Biden on their line as they seek enough support to stay on the ballot in future contests. The Party has been a force in progressive politics for years and has never been shy about poking the Governor in the eye. New York allows so-called fusion voting, which allows smaller parties to endorse and run a mainline candidate under their name. But after years of battling with the Working Families Party, Governor Cuomo led the push to enact budget language this year requiring political parties receive at least 130,000 votes or 2% of all votes cast, whichever is higher, every two years to maintain a ballot line. The previous threshold was just 50,000 every four years. Here's my take from the State of Politics blog: "The new, higher standard is a big test for the Working Families Party; especially ironic at a time when the WFP is fielding more candidates, forcing primaries, and winning more races. The Conservative Party has been successful punching above their weight, getting more votes on their ballot line than the number of registered conservative voters. I suspect, those donors, and believers, with assists from Sen. Schumer, Cong. Ocasio-Cortez, and a legion of supporters in the Assembly and Senate, that the WFP will meet the threshold. That said, it may be tough to sustain every two years."

Governor Andrew Cuomo is now threatening to withhold state money—"impound all funds"—from New York City (and other municipalities)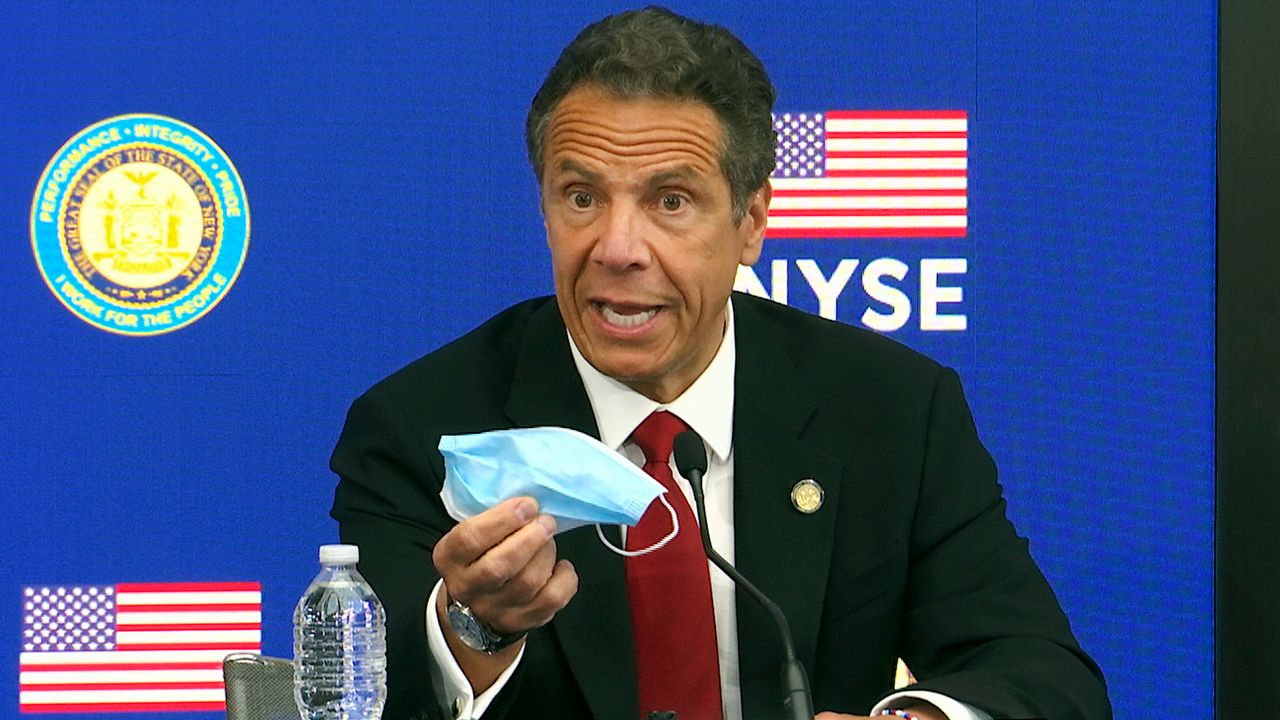 if shutdown regulations are not enforced in new coronavirus hotspots. Officials in New York City, Rockland and Orange counties, the town of Ramapo, and the village of Spring Valley were all sent warnings that the state could take their funds. "Hopefully that will motivate them," Cuomo said. Yet another battle in the Cuomo-de Blasio saga, and de Blasio's press secretary, Bill Neidhardt, did not miss a beat in comparing the Governor's response to that of President Trump, whom Cuomo has called a "bully" and a would-be "king" for attempting to block money for the "anarchist jurisdiction" of New York City. Neidhart responded: "What drives NYC's COVID response and enforcement is the threat of a second wave, not threats of federal or state funding cuts."
State Senator Mike Gianaris 
added
, "If this threat is implemented and desperately needed funds are withheld, the legislature should reconvene immediately and revoke emergency powers." But Cuomo concluded that the sweeping powers he 
has amassed
 during the Covid-19 emergency did not go far enough. "If I had to do it all over again, I would have taken over all the enforcement on day one," he said.
Governor Cuomo also announced yesterday that the State has sent a draft mass vaccine distribution plan to the federal government, saying he thinks a vaccine could come as early as December. Cuomo predicted the state will need 40 million doses as part of its "Vaccine Administration Program," noting 20 million New Yorkers would require two doses each over the course of three to four weeks. While announcing the plan, he also submitted a letter, along with the National Association of Governors, asking detailed questions of the federal government on everything from funding to potential supply chain issues.
State Legislature Candidates Spending Sooner Than Usual With More People Voting Early
Every election is different, but longtime political strategist Jack O'Donnell said there's typically a playbook for how campaigns spend their money. "You might spend a year putting your campaign together," he said. "It's focused on those last few hours, 6 a.m. to 9 p.m., but now that we've extended that window and we've made it much easier for people to vote, you've got to adjust for that." 
[Read more.]
UB-Community Partnership Reducing Covid-19 Deaths Among African Americans
A partnership between the University at Buffalo's Community Health Equity Research Institute and others is credited with helping reduce COVID-19 deaths among some of the region's most vulnerable citizens. UB says the partnership between the Institute, the African American Health Equity Task Force and the Buffalo Center for Health Equity is credited with WNY being one of the few in the country reducing coronavirus death in the African American community. 
ODA is proud to be a part of the SUNY Buffalo government relations team. 
[Read more.]

The Working Families Party's Fuzzy Future
The future of the Working Families Party, the left-leaning political party which has been active in New York state since 1998, is in doubt. As 
Spectrum News' 
Nick Reisman 
reported in August
, 33 WFP-endorsed candidates won their races and three challengers defeated Democratic incumbents in the Primary Elections. No one would blame you if you looked at the party's recent track record, and thought the WFP was slaying it. Instead, come November, it may be slayed. 
[Read more.]

Bridge Upgrade to Boost Border Travel in Lewiston
Local officials and representatives from the Niagara Falls Bridge Commission on Wednesday celebrated what they described as a "major milestone" in the modernization of the plaza at the Lewiston-Queenston Bridge. Officials touted the completion of the U.S. Customs and Border Protection auto and bus processing site, which is part of an upgrade to the Lewiston border facility. Officials said the project is designed to enhance the efficiency and functionality at one of the busiest points of entry along the U.S.-Canada border. 
ODA is proud to represent the Niagara Falls Bridge Commission and to have worked with Sen. Schumer and his staff to continue moving this important community project forward. More to come! 
[Read more.]