Good morning from Western New York…
This week marked the beginning of the first phase of New York's reopening process in five of the State's ten regions: the North Country, Mohawk Valley, Finger Lakes, Southern Tier, and Central New York. According to Governor Cuomo's most recent Executive Order, Phase One will include "reductions and restrictions on the in-person workforce at non-essential businesses or other entities no longer apply to Phase One industries: Construction, Agriculture, Forestry, Fishing and Hunting, Retail (limited to curbside or in-store pickup or drop off); Manufacturing, and Wholesale Trade." Read the full Executive Order 202.31 on reopening here .
Although Cuomo extended the NY on PAUSE order until May 28, and the State of Emergency order until June 13, any other region of New York that meets the reopening criteria (infection rate, health care system capacity, testing, and tracing) in the meantime, can also enter into the first phase.

New York, New Jersey, Connecticut, and Delaware will open their beaches to the public for Memorial Day weekend but will be limited to 50 percent capacity, no concession stands, contact sports or large gatherings; at New York City beaches, swimming also will not be allowed. Currently, every state but Michigan and Illinois has reopened or partially reopened but are still enforcing some level of physical distancing and crowd control.
The House of Representatives passed the $3 trillion HEROES Act on Friday, the latest stimulus relief bill which would double the amount of aid approved by Congress so far in response to the coronavirus pandemic.
The bill provides $500 billion in direct assistance to state governments, $375 billion to assist local
governments, $20 billion to tribal governments, and $20 billion to U.S. territories.  Among other provisions , House Democrats approved a second round of $1,200 stimulus checks, $200 billion in hazard pay for essential workers, and a six-month extension to the  COVID-19 unemployment program. The measure was praised by Governor Andrew Cuomo who has been hounding Congress with requests for immediate federal aid for the State of New York.
The House passed the HEROES Act by a 207-199 vote with 14 Democrats joining Republicans to vote "no", narrowly clearing the way for the bill to push ahead to the Republican-led Senate. However, Senate Republicans and the White House have called the Democratic proposal merely a "wish list." Both President Donald Trump and Republican Senate Majority Leader Mitch McConnell have made it clear the current bill is dead on arrival.  However, White House officials have privately signaled that they are willing to provide billions relief to states as part of a bipartisan deal with Democrats.
The White House will move over the next few weeks to negotiate their priorities, which chiefly center on regulatory reform, tax breaks, and key business provisions like liability protections for businesses.  One veteran Republican close to Trump said, "The White House is moving to set up where a deal could be. The first thing is getting Republicans in Congress to come around on some money for states and that's happening. It's progress, for sure, but it's only  the first part in bringing it all together in a deal."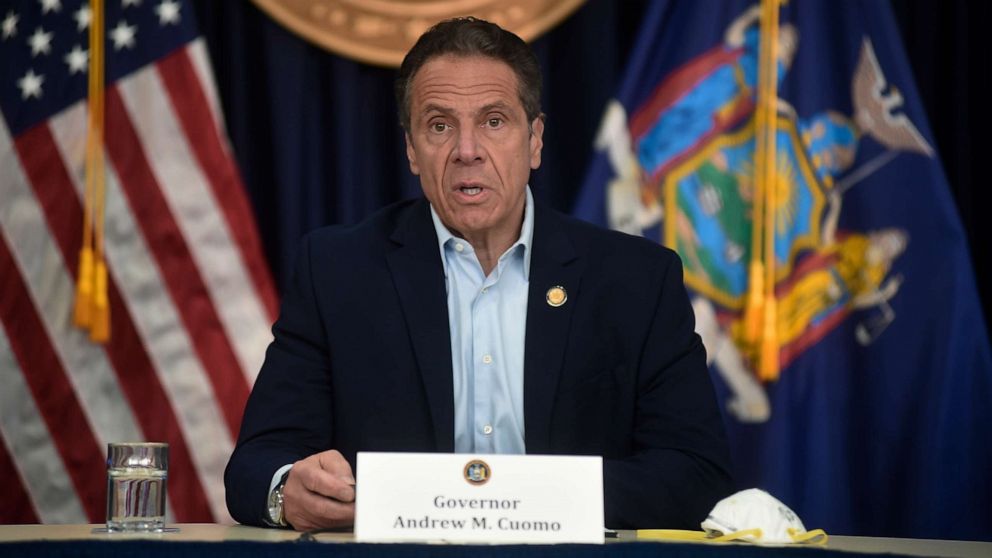 Back in New York, Cuomo is saying there is no time to negotiate; the fate of New York's schools, hospitals and local governments rests on the Senate's vote on the $3 trillion HEROES Act relief bill. If the Senate does not approve the Act, Cuomo warned, "there will be cuts" to state funding for education, medical programs, and local governments, impacting vital services such as police and fire departments. How ever, budget cut proposals were expected from the Divisi on of Budget on May 15 and no report was issued. Instead, the Governor expressed optimism that, if Congress approves the $3 trillion package virtually as-is, the Empire State would be able to get out of a massive $61 billion budget hole.
Cuomo's comments come on the heels of New York's new  cash report , issued by state Comptroller Thomas DiNapoli, which confirmed the massive hit to the State's revenue, with April revenue collection at about 32% of the sum collected during the same month in 2019.  The State saw an overall reduction of $7.9 billion , according to the report. Of that, $7 billion comes from a decline in income-tax collections primarily due to officials pushing back Tax Day from April 15 to July 15. Besides the steep drop, DiNapoli's report officially confirmed that actual state revenue is more than 1% off the projections the Governor and legislators used in April to enact the State Budget.
Raising the stakes, Federal Reserve Chair Jerome H. Powell  warned  that the U.S. economy could become stuck in a painful multiyear recession if Congress and the White House do not authorize more aid to address the  coronavirus  pandemic's economic fallout. His comments are a sharp departure from the economic optimism President Trump and some senior Administration officials have touted in recent days.
With Move to Remote Voting, House Alters What It Means for Congress to Meet
When the House of Representatives acted on Friday to allow remote voting and virtual hearings, the coronavirus pandemic officially succeeded in doing what Philadelphia's yellow fever outbreak of 1793, the Spanish influenza of 1918, the Sept. 11, 2001, attacks and generations of agitators for institutional change never could: untethering Congress from its mandate to come together physically. [Read more.]

Who Can Say 'No' to Cuomo? His Top Aide, Melissa DeRosa
Competence is captivating. No need to tell viewers tuning in to Gov. Andrew M. Cuomo's daily media briefings.  Many have been riveted  by his plain talk in the face of a global pandemic. Others are increasingly focused on the woman usually seated at his left: She is Melissa DeRosa, Secretary to the Governor and the most powerful appointed official in the state, the first woman to hold that position, and one of the youngest, her robust command of facts and arcana only hinting at her sway. [Read more.]
When It's Time to Go Back to the Office, Will It Still Be There?
Someday the coronavirus pandemic will release its grip on our lives and we will return to the workplace. The question is: Will there be an office to go back to when this is all over? 
The changes the business world is considering offer a radical rethinking of a place that is central to corporate life. 
[Read more.]

Thruway OKs $450 Million Plan to Rebuild, Upgrade 27 NY Service Areas
The 27 service areas along the New York State Thruway are about to get a major facelift. A $450 million proposal from Empire State Thruway Partners has been approved by the Thruway Authority. Empire State Thruway Partners, led by the British-based investment firm John Laing Group, will rebuild 23 of the 27 service plazas and upgrade the other four facilities — Malden, Ontario, Pattersonville and Sloatsburg, according to the Thruway Authority.   [Read more.]

Where Do We Go From Here?
A great reflection piece by our friend, 
Howard Konar
, on how the lessons we've learned during this experience can inform our choices going forward.
"At this time next year, will we greet each other with handshakes and hugs or with glances and nods?"
[Read more.]

Biden Has an Edge on Trump. So Why Are Democrats Worried?
Less than six months before Election Day,  Mr. Biden  finds himself in an extraordinary position: Party leaders have quickly united around him, and he has an edge over President Trump in most polls. But he has yet to prove himself as a formidable nominee who can set the political and policy agenda for Democrats and the nation, and his campaign has so far not solved the unprecedented challenges of running for the White House from the seclusion of his home. [Read more.]

How Pandemics End
When will the Covid-19 pandemic end? And how? According to historians, pandemics typically have two types of endings: the medical, which occurs when the incidence and death rates plummet, and the social, when the epidemic of fear about the disease wanes. [Read more.]