Good Morning from New York,
With just a week until Election Day, Democrats are elated by early voting trends: according to data compiled by Hawkfish, a Mike Bloomberg-backed tech consortium aimed at promoting progressive candidates, Democrats have opened up wide leads in six battleground states— Arizona (16 percentage points), Michigan (24 points), North Carolina (14 points), Pennsylvania (46 points), and Wisconsin (22)."It's a warning flare," said veteran Republican strategist Scott Reed. Across the country, polling places were flooded this weekend with winding lines of energized voters. More than 50 million Americans have already cast ballots in the Presidential Election, a pace that could lead to the highest voter turnout in over a century—experts predict that 150 million, 65% of Americans, will vote before November 3rd—the highest rate since 1908. In places like Texas where the level of voting has already passed 70% of 2016 numbers, those eye-popping numbers could mean Texas is in play. Of course, we also expect high in-person Republican turnout on Election Day.
Worth noting, as we saw with the 2016 election, forecasting and early modeling can very quickly become meaningless. While momentum may be
on Joe Biden and the Democrats' side, at this point in 2016, Hillary Clinton led Donald Trump by a commanding 14 points—even managing to draw some Republican votes in early polling. It remains unlikely that we will know the results from key states that will determine the Presidential election, the United States Senate, and possibly even control of the House, for a while after Election Day. Stay tuned.

In Washington, Democrats hoping for a sweep this November are preparing to seize on budget reconciliation powers that would come from controlling the White House and both Houses of Congress to deliver trillions of dollars in policy priorities next year, like a massive infrastructure plan backed by a prospective Biden Administration. And regardless of what happens on Election Day, congressional appropriators and budget wonks have their eye on fiscal year 2022 since, after a decade of strict budget caps and the threat of automatic spending cuts, lawmakers will face no overall limits on defense and non-defense discretionary spending. If a blue wave materializes, that could also mean more intense discussion about the size of the Pentagon's budget and how it squares with the party's ambitious domestic priorities. It could also mean a return to earmarks (let us know if you want to discuss).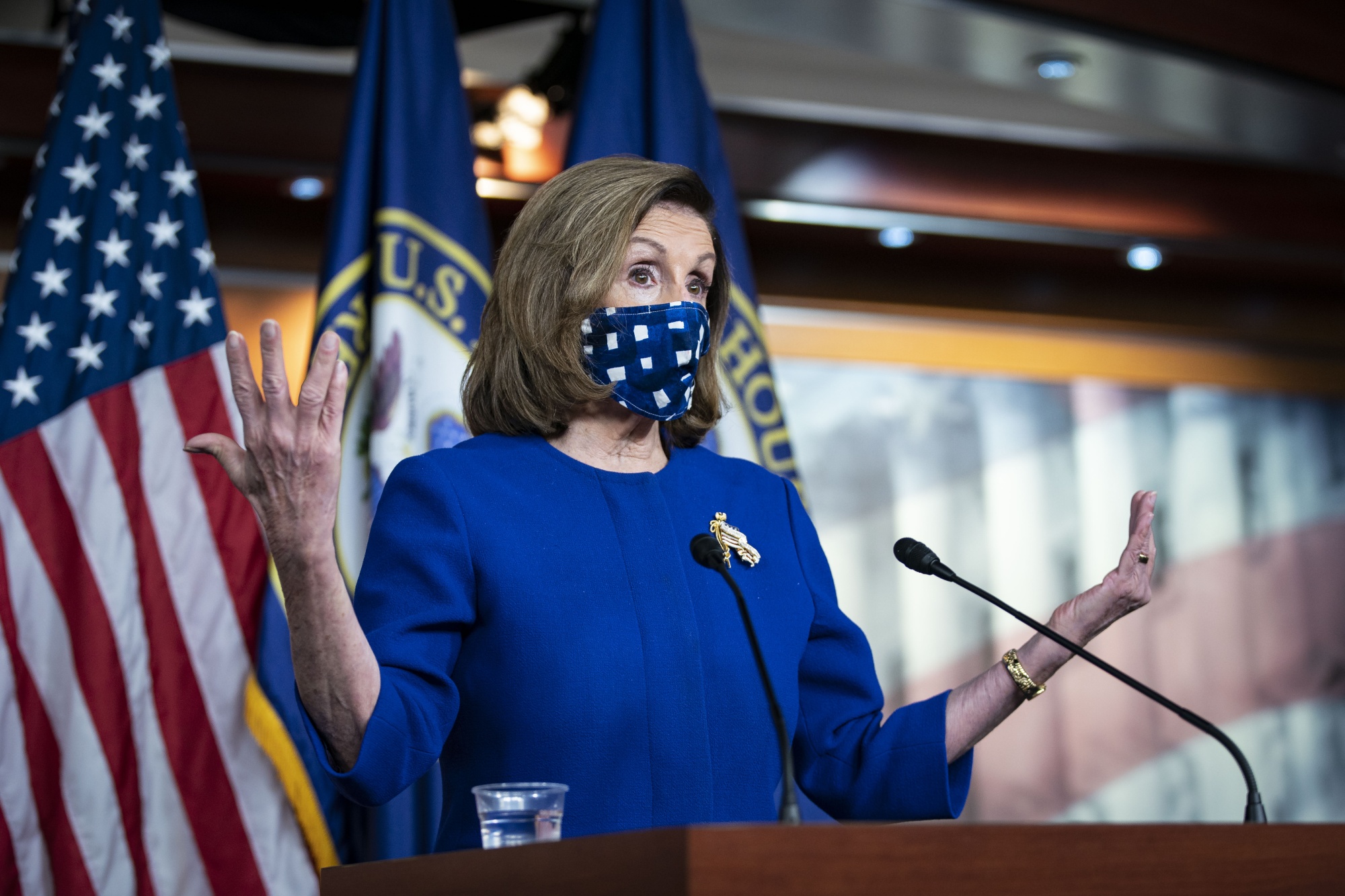 However, before any ambitious infrastructure packages, lawmakers will have to work on both a stimulus package and a funding deal to avoid a government shutdown. If that does not happen before the 117th Congress begins in January, Democratic leaders have signaled their first priority would be another multi-trillion-dollar coronavirus relief package. Lawmakers may also have to finalize appropriations bills for the current fiscal year if they punt a December 11 government funding deadline into early 2021. As far as a stimulus bill, any hope of a package before Election Day—and perhaps before January—continues to fade. Stimulus talks remained stagnant over the weekend. White House Chief of Staff Mark Meadows and House Speaker Nancy Pelosi said on Sunday they still have not agreed to language on coronavirus testing, jobless benefits, and state and local funding. Pelosi did send a list of demands to the White House, and hopes to have more back today. While the White House and Pelosi have traded barbs about who is dragging their feet behind closed doors, Senate Republicans have become more vocal about their long harbored objections to any ambitious deal. Further, some House Democrats are telling Pelosi that they do not want the House to vote on legislation if the Senate will not commit to having a vote as well, according to a party official.
While the stimulus discussion drags, it is full steam ahead on Donald Trump's Supreme Court Nominee, Amy Coney Barrett. Despite delay tactics from Senate Democrats led by Minority Leader Chuck Schumer, Senate Majority Leader Mitch McConnell advanced Barrett's nomination to the floor Friday, putting her on track for a final confirmation vote on the floor later today.
In an act of protest, 
Senate Democrats forced the Senate Friday to go into an extremely rare closed door session, generally reserved for national security matters, which lasted about 20 minutes and ended after a party-line vote. The Senate has not held a closed-door session in more than a decade. Senate Democrats made the move Friday in an effort to stall setting up a key procedural vote.
"It [was] just for show," Florida
Republican Senator Rubio said. "It's just theater. It's just so they can tell their activist class that they're fighting tooth and nail every step of the way. It's just for show. It is what it is." 
Over the weekend, Amy Coney Barrett's nomination gained another supporter in Alaska Senator Lisa Murkowski, who announced she will vote for the nomination
 after previously saying she would vote in the negative. That puts the Senate at a likely 52-48 vote, with only Maine's Susan Collins possibly voting in the negative.
And last week, President Donald Trump and former Vice President Joe Biden faced off in their second and final presidential debate. The debate, which primarily focused on COVID-19, foreign policy, the economy, race, and climate change, had a semblance of normalcy. Political pundits remarked that, although the bar was set incredibly low, both candidates significantly improved from their performance a couple of weeks ago. New York took center stage for a portion of the debate as President Donald Trump called New York City a "ghost town", mentioning Democratic policies and Governor Andrew Cuomo (the first time an incumbent New York governor had been mentioned in a general election presidential debate since 1960), and knocking Biden's idea of putting up Plexiglass between diners in restaurants. "Take a look at what happened to New York and what's happened to my wonderful city for so many years," Trump responded. "I loved it; it was vibrant. It's dying. Everyone's leaving New York." Democrats were swift to knock the statements from Trump. "NY has the 3rd lowest positivity rate in the country and has since June. If Trump had done a European travel ban in January, we would never have been blindsided by this virus to begin with," Melissa DeRosa, Secretary to the Governor, wrote on Twitter.

New York is playing its own game of whack-a-mole with coronavirus outbreaks across New York City and the Southern Tier
 and, despite a grand total of forty states and territories now on the quarantine list for travelers entering the Empire State, New York 
will not actually impose
 the quarantine requirements on New Jersey and Connecticut, its two partner states, nor on neighboring Pennsylvania, three states which have all reached the number of coronavirus infections that should require a quarantine under current rules. Cuomo 
is instead urging
 tri-state residents to avoid nonessential trips across state lines. "There is no practical way to quarantine New York from New Jersey and Connecticut," Cuomo told reporters. "There are just too many interchanges, there are too many interconnections, there are too many people who live in one place and work in the other. It would have a disastrous effect on the economy." We expect an announcement and Executive Order from Governor Cuomo using increased—and more rapid—testing to 
modify the quarantine rules
, perhaps as soon as this week.
O'Donnell & Associates Election Guide:
What is at Stake this Election Day, and What to Watch For
Control of the United States Senate
Minority Leader and New Yorker Senator Chuck Schumer and the Democrats are trying to retake control of the upper House for the first time since 2015. Republicans currently hold a 53-47 majority, and the powers that come with that will be highlighted in today's confirmation vote of Trump Supreme Court nominee Amy Coney Barrett, which took only about a month start to finish. Though there are 35 seats up for reelection this year, but it will really come down to seven key races:
1. Republican Senator Susan Collins in Maine faces a tough road to reelection against Democrat Sara Gideon, who is currently the Speaker of the State House. Collins has been a mainstay in the New England political milieu since 1997, but the ground is shifting beneath her feet. A President that demands unflinching loyalty from his party, and an increasingly energized and progressive voter base could spell trouble for Collins and an opportunity for Democrats.
2. In North Carolina, Senator Thom Tillis, a Republican running for his second term, is neck and neck with Cal Cunningham—a Lieutenant Colonel in the Army Reserve who served in the North Carolina State Senate from 2001-03 and mounted an unsuccessful campaign for the United States Senate in 2010. However, Cunningham has been bogged down in recent weeks with a sext scandal that could derail his campaign.
3. Senator Joni Ernst of Iowa is a rising star in the Republican Party and a household name nationwide. For a while, it did not seem like Ernst would have a tough time winning reelection. Further, she is a Vice-Chair of the Republican Conference and a close confidant of Majority Leader Mitch McConnell. But now, with less than a week to go before Election Day, Ernst is neck and neck with her Democratic challenger, Theresa Greenfield, and political spending in the state has reached unprecedented heights.
4. In Georgia, for a seat vacated at the end of last year by Republican Johnny Isakson, Republican Senator David Perdue is facing Jon Ossoff—who narrowly lost the 2017 special election for former Health Secretary and Trump ally Tom Price's seat. A New York Times/Siena College poll published last week shows that 43 percent of likely voters support incumbent Perdue, and another 43 percent support Democrat Jon Ossoff.
5. In the hotly contested race for U.S. Senate, the Republican senator Steve Daines narrowly leads Democratic Montana Governor Steve Bullock, 49 percent to 46 percent. It is worth noting that Trump took Montana by 20 points in 2016.
6. As Republican Senate Judiciary Chair Lindsey Graham of South Carolina leads the push to confirm Trump's Supreme Court nominee in Washington D.C., back home he and his Democratic challenger Jaime Harrison are involved in the most expensive race in South Carolina's history. Harrison raised a record-breaking $57 million in the past three months, shattering the mark for a Senate candidate. A Morning Consult poll released this week showed Harrison leading Graham by two points—47 percent to 45 percent—while a Data for Progress poll on October 14 showed Graham trailing behind by just one point.
7. In 2014, Republican Senator Cory Gardner, then a Congressman from rural Colorado, parlayed his charm and ability to connect with voters into a Senate seat by defeating Mark Udall, an incumbent Democrat from a Western political dynasty; in 2020 the polls show him down 10 points to former Democratic Governor John Hickenlooper, who despite a tough primary, is the overwhelming favorite in the General.
Key House Races
The House is not going to flip on Election Day. If anything, nationwide, Republicans are trying to stem their losses and defend tough races in once-red districts. However, that does not extend to New York's 2nd, 11th, and 22nd Congressional Districts which are locked in tight races that will most likely come down to the wire:
1st Congressional District—Long Island—Three-term Rep. Lee Zeldin is defending his House seat against Nancy Goroff in New York's 1st Congressional District. Zeldin defeated his challenger in 2018 for a third term by 4.1 percentage points, his narrowest reelection win during his time in Congress so far.
2nd Congressional District—Long Island—After 28 years in Congress representing Suffolk County, Rep. Peter King is not seeking reelection. The race pits Republican Assembly Member Andrew Garbarino against Town of Babylon Councilperson and retired military officer Democrat Jackie Gordon.
11th Congressional District—Staten Island—in the relatively conservative Staten Island district, Incumbent Democratic Rep. Max Rose has run a familiar playbook against Republican Assembly Member Nicole Malliotakis—attack Mayor de Blasio. Most recently a six second campaign ad "Bill de Blasio is the worst mayor in the history of New York City," Representative Max Rose says. "That's the whole ad." The attacks underscore the problems the first termer faces in the Staten Island district that Trump carried by 10 points in 2016.
22nd Congressional District—Central New York— After defeating Republican Claudia Tenney in 2018, Democratic Rep. Anthony Brindisi holds a 9 percentage point lead over former Rep. Tenney in a Siena College/Syracuse.com poll of likely voters released on Thursday morning. The poll showed Brindisi drawing 48 percent of support with Tenney receiving 39 percent.
24th Congressional District—Syracuse—It is a rematch debate for the candidates running for New York's 24th Congressional District. U.S. Rep. John Katko, the Republican incumbent, is seeking his fourth term in office. Dana Balter, the Democrat Katko beat in 2018, is once again running to unseat him.
A Supermajority for Democrats in the New York State Senate
Over the past several months, the Democratic Senate Campaign Committee spent almost $4 million as they look to take even more seats on Election Day. Winning just two more seats will give the Democrats a two-thirds majority and join the Assembly with a supermajority will allow them to come into 2020 flexing their muscles perhaps even more than they did with the wave of legislation they passed after taking back the upper House in 2018. What is more, a supermajority would put them squarely in charge of the 2022 Redistricting Process. Under current rules, a supermajority vote is needed in the Senate to approve that redistricting plan to avoid the issue being dumped into the lap of the state court system.
Here are some of the key races and dynamics to watch:
The Battle for Long Island—Voters in the longtime Republican stronghold shocked onlookers in 2018 with a Democratic landslide—taking 6 of 9 Long Island seats. For the past two years the "Long Island Six"—Democratic Senators Monica Martinez (District 3), Jim Gaughran (District 5), Kevin Thomas (District 6), Anna Kaplan (District 7) John Brooks (District 8), and Todd Kaminsky (District 9)—have been a moderating force in the Majority Conference, exerting their influence on everything from prevailing wage to recreational marijuana discussions. On election day, Brooks, Kaplan, and Kaminsky are safe, Gaughran looks good, and Martinez and Thomas all face difficult paths to reelection.
Senate District 22—First-term Senator Andrew Gounardes road the blue wave and shocked a number of insiders when he toppled long time Bay Ridge Republican mainstay Senator Marty Golden—turning one of the last red State Senate districts blue. Now, he faces a tough challenge from Republican Challenger Vito Bruno, a club owner and music promoter. Democratic officials are evidently worried that could change: The Democratic State Senate Campaign Committee wired $350,000 to Gounardes last week.
Senate District 38—In the seat vacated by Senator David Carlucci's unsuccessful congressional campaign to replace outgoing United States House and Appropriations Chair Rep. Nita Lowey, Senator James Skoufis' Legislative Director Elijah Reichlin-Melnick faces accountant Republican William Weber Jr., who was the second pick of the GOP after their favorite Clarkstown Supervisor George Hoehmann decided to drop out.
Senate District 40—State Sen. Pete Harckham narrowly flipped a longtime Republican district in 2018 and former Westchester County Executive and gubernatorial candidate Rob Astorino is now running, hoping to revive a decimated Republican Party in Westchester County, where most of the district's voters live.
Senate District 55—In the suburban seat spanning suburban Rochester in Monroe and Ontario Counties vacated by Republican Senator Rich Funke's retirement, Democrat Samra Brouk and Republican Chris Missick are facing off in a close race. Missick is backed by more cash than his opponent and an endorsement from Funke, but Brouk has received some campaign support from Cuomo as well, and has seen a recent uptick in cash and optimism amongst insiders across the State.
Senate District 56—In the other Rochester district which was vacated by long time Republican Senator and local fixture Joe Robach, including a part of Rochester, former Chief of Staff to Rochester Mayor Lovely Warren, Jeremy Cooney is likely to defeat Republican nominee Greece Town Council Member Mike Barry. Cooney has a lopsided fundraising advantage as well as several key labor endorsements. A change in control of Rochester Senate Districts 55 and 56 could be a part of Rochester's return to prominence in Albany. For the past year—following the retirement announcements of Robach and Funke, Jamie Romeo leaving the Assembly for Monroe County Clerk, and the passing of David Gantt, ALL of Rochester has essentially been supported by Assembly Member Harry Bronson. That will change next week, but the question is: to what degree?
Senate District 46—Michelle Hinchey, the daughter of former long time Congressman and Hudson Valley fixture Maurice Hinchey, is well-positioned to pick up this seat in a swing district, vacated by retiring State Sen. George Amedore. Republican nominee Richard Amedure—a military veteran and former police union head—has raised over $300,000 less than his opponent.
Senate District 50—Democrat John Mannion—who ran unsuccessfully in 2018 to replace former Republican Deputy Majority Leader John DeFrancisco—is the overwhelming favorite in a race that would help bolster Central New York's positioning in the Senate Majority Conference.
For more races and overview, click here.
Assembly Overview
The Assembly's fate largely was sealed in June with the onslaught of a number of key Members of the Majority Conference like Assembly Members Joe Lentol, Michael DenDekker, Felix Ortiz, Walter Mosley, and Carmen Arroyo by Democratic insurgents that mirrored the 2018 State Senate elections. What will be interesting is what comes in January, with the likely pickup of seats across more moderate districts in the Hudson Valley, Rochester, and Syracuse, how will the two Conferences interact? Will there be gridlock? And what could a potential supermajority in both Houses mean for Carl Heastie and Andrea Stewart-Cousins flexing their muscle against Governor Andrew Cuomo in what could likely be the most contentious State Budget Process in the State's history. While there isn't a lot at stake for the Assembly on Election Day, the new Democratic insurgents coming in January will surely deeply change the landscape of the lower House and present new dynamics for Speaker Carl Heastie and Central Staff.