Budget Wrangling Already Under Way in Albany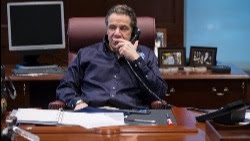 Lobbyists for the state's biggest advocacy groups — from unions to environmental nonprofits — are meeting privately with Cuomo's office and state agencies as the budget shapes up.
Peter Iwanowicz, executive director of EPL/Environmental Advocates, is hoping combating climate change is on the agenda. He said New York must spend $1 billion to jumpstart landmark legislation that set a goal for net-zero carbon emissions across the state's entire economy by 2050. He also called for action on solid waste and recycling, and another $1 billion annually for clean water infrastructure. "The Legislature and the governor need to show the environment the money," he said on public radio this week. Other looming issues include the possible legalization of recreational marijuana sales to adults, which Cuomo has called one of his major priorities for the next session.
Elijah Cummings, Powerful Democrat Who Investigated Trump, Dies at 68

Representative Elijah E. Cummings, a son of sharecroppers who rose to become one of the most powerful Democrats in Congress and a central figure in the impeachment investigation of President Trump, died on Thursday in Baltimore, his hometown. He was 68. His death, at Johns Hopkins Hospital, was confirmed by his wife, Maya Rockeymoore Cummings, the Maryland State Democratic chairwoman. A spokeswoman, Trudy Perkins, said in a statement that Mr. Cummings died of "complications concerning longstanding health challenges." No other details were given.
"He worked until his last breath," his wife said in a statement on Thursday, "because he believed our democracy was the highest and best expression of our collective humanity and that our nation's diversity was our promise, not our problem."