Good morning from Albany, New York where an atmosphere of hurt feelings, anger, and even shock, prevails after lawmakers voted down Governor Hochul's nominee to lead the New York State Court of Appeals. All eyes were on the 19-member Senate Judiciary Committee last Wednesday as Judge Hector LaSalle plead his case to Senators who, for the most part, had already made up their minds.
Nonetheless, the result was not a foregone conclusion, an entirely atypical situation for Albany, that only added to the suspense.
As we outlined in last week's memo, LaSalle's nomination faced opposition from the start, especially from Progressive Democrats concerned about his experience as a prosecutor and what they saw as a conservative record. That opposition continued to build, including the NAACP Legal Defense Fund, the Communications Workers of America (CWA), District Council of Iron Workers, Center for Reproductive Rights Union, and the New York County Democratic Party.  
Governor Hochul did not back down. Instead, she assembled a roster of supporters to vouch for LaSalle including the Public Employees Federation and the Transport Workers Union of America whose President, John Samuelsen, penned a letter defending Judge LaSalle. Among elected officials, supporters include United States House Reps. Adriano Espaillat and Nydia Velázquez as well as House Minority Leader Hakeem Jeffries. 
The result? A public stare-down between Governor Hochul and the Legislature where neither side blinked. 
It was clear from Senate Judiciary Chair Brad Hoylman-Sigal's opening statement
that he had concerns about
LaSalle, 
telling him
, "Judge, this will not be a roast. But it will not be your bar mitzvah" (it certainly trended towards the former). In LaSalle's opening statement, he tried to assuage some of the concerns that had been raised in public,
saying
 "While I can not prejudge cases and must base decisions based on the facts … I personally strongly believe in a woman's right to make her own reproductive decisions" and later, "I strongly believe in the value of unions and the right to organize. We must continue to protect the right to organize." He also highlighted his upbringing in a union household, telling the story of his grandmother who worked at Entenmann's Bakery, and how her union membership brought their family from "the working poor to the working class."
The opposition from much of organized labor centered around LaSalle's ruling in Cablevision Systems Corp. v. Communications Workers of America District 1. CWA, and two union officials, were sued for defamation by Cablevision for statements they made in a televised town-hall meeting. A lower court dismissed the lawsuit, citing a state law that prohibits companies from suing unions—and union officials—for union-related activities. However, while LaSalle agreed the lawsuit against the union itself must be dismissed, the suit against the individual union officials could proceed. When pressed on the case in the hearing, LaSalle reiterated that he and his colleagues on the Court interpreted the facts of the case to be that the union officials were acting in their personal capacity rather than their official capacity and that this one ruling is not indicative of his broader views towards labor. Judge LaSalle offered, "I only ask that this body looks at my entire record, not just the record that certain advocates have chosen to look at," before Senator Luis Sepulveda, one of LaSalle's supporters on the Committee, listed off nearly a dozen of his rulings that were supportive of organized labor. Senator Sean Ryan pointed out that the Cablevision case was "protecting Goliath against David" while Senator Jessica Ramos brought up additional cases pertaining to labor and raised concerns regarding workplace protections. 
The concerns from reproductive rights advocates stem from a 2017 case, Evergreen Association, Inc. v. Schneiderman, where LaSalle joined the 5-0 majority in a ruling that forced the New York Attorney General to limit the scope of a subpoena issued to an anti-abortion crisis pregnancy network on the basis that the broad subpoena infringed on the group's First Amendment rights. The ruling did not satisfy the crisis pregnancy network, Evergreen, who wanted the subpoena thrown out entirely but the decision raised doubts for many reproductive rights advocates. LaSalle pushed back on that notion and argued that the case in question, much like the Cablevision case, was a matter of law and legal procedure rather than a reflection of his views on the issue.
Throughout the hearing, LaSalle pressed the fact that as a sitting justice, his job is to make determinations based on law and the facts of the case, not personal ideology. 
LaSalle received a warm reception from the Republican Members of the Judiciary Committee who bent over backwards to offer him praise coupled with scorn for their Democratic colleagues and the hearing rules.
LaSalle held up very well under the relentless barrage of questions and earned the respect of many of the committee, even if his performance did not change any minds. The result was ten to nine against advancing LaSalle's nomination to the floor of the Senate
For recommendation to advance: Sepulveda (D), Thomas (D)

Oppose recommendation to advance: Breslin (D), Gounardes (D), Hoylman-Sigal (D), Liu (D), Mayer (D), Myrie (D), Ramos (D), Ryan (D), Skoufis (D), Stavisky (D)

Advance without recommendation: Bailey (D), Fitzpatrick (R), Lanza (R), Martins (R), O'Mara (R), Palumbo (R), Rhoads (R)
At the end of the day, nine Senators voted to advance the recommendation to the floor, but only two recommended their colleagues actually confirm LaSalle should he come to the floor. In Committees in New York, legislators have three options. When it comes to nominees, that nuance is important. Senators on Judiciary must vote not only to advance the nominee to the floor, they must decide whether or not they recommend them for confirmation. Ultimately, seven Senators advanced LaSalle, but did not recommend him for confirmation before the full Senate.
Much has been made that this is the first time a Court of Appeals nomination has failed to advance. That is not fair and does not tell the entire story. The role of the Courts has received more scrutiny than ever before, scrutiny only amplified by last year's redistricting decision. That decision was notable for the impact on maps and, perhaps, control of Congress but also for the vitriol then Chief Judge Janet DiFiore spewed on her colleagues. DiFiore's ignoble exit, under scrutiny on multiple fronts including a state ethics probe that she wrongly interfered in the disciplinary hearing of the president of the Court Officers Association, also generated a much closer examination of any candidate to be her successor. Finally, as Senator Ryan noted, there has been a 30-year effort by conservative groups to move anti-worker, anti-women, and other ideological fights into the state courts. This scrutiny—and the clash it engendered—were the inevitable result.
What happens next is not entirely clear. Governor Hochul argues that the constitution requires LaSalle's nomination be brought before a full vote of the Senate while Hoylman-Sigal argues that the Judiciary hearing is the end of the line for LaSalle. It has been reported that the Governor is preparing to hire Caitlin Halligan, a former solicitor general of New York, in a sign that she is preparing for a legal fight with the Legislature. In a statement following the vote, Hochul said "While this was a thorough hearing, it was not a fair one, because the outcome was predetermined. Several Senators stated how they were going to vote before the hearing even began – including those who were recently given seats on the newly expanded Judiciary Committee. While the Committee plays a role, we believe the Constitution requires action by the full Senate." Former Chief Judge Jonathan Lippman agreed, saying "Any other way of doing this is a threat to constitutional design."
After the vote, Senate Majority Leader Andrea Stewart-Cousins immediately sided with her colleagues on the Judiciary Committee, 
saying
 "We had the hearing we said we would always provide. The committee has spoken. The nomination was lost and I'm hoping we can move forward." On Friday, the Majority Leader took a stiffer tone, 
saying in a statement
 "This ongoing attack makes it clear that there are those that don't accept the Senate's role in the process, and will not be happy unless we simply act as a rubber stamp." It is not clear that Judge LaSalle would even have the votes to be confirmed if Hochul did force the Majority Leader into a floor vote. As one source offered to the 
New York Post
 "The Capitol is littered with the political corpses of people who thought they could undermine Andrea Stewart Cousins' leadership of the Democratic Conference." 
By the looks of it, this fight could just be getting started. 
LaSalle's defeat has many progressive's giddy and gearing up to further oppose the criminal justice recommendations Hochul announced in her State of the State, especially any changes to bail reform (quick reminder that bail reform, too, came from renewed scrutiny of the state courts per the above). While any changes will remain hard fought, it is worth remembering that the battlefield is different and decisions of the courts (notably Silver v. Pataki, that many legislators want to see reversed by a Court of Appeals going in "a different direction") give the governor enormous power over that process. In other words, while the bad blood between the Governor and the Senate is real, do not read too much into this defeat for Hochul. There are many bodies across New York of people who have underestimated her, too.
Speaking of budget, the Governor's Executive Budget Proposal is due February 1st. Even before political calculations, the fiscal discussion must account for a potential recession on the horizon. Despite strong revenue collections and relatively low unemployment, outgoing Budget Director Robert Mujica said, "the outlook is extraordinarily challenging." Weakening Wall Street projections—which is responsible for a significant percentage of the State's revenue collection—coupled with continued rate hikes from the Federal Reserve to combat rampant inflation are concerns for continued economic growth in New York. Meanwhile, the Governor has committed that she will not raise taxes in State Fiscal Year 2023-24. Rather, she will work to control spending and has already asked State agencies to "hold the line" on spending in their budget requests.
While a potentially austere picture plays out in the long-term, short-term budget news is good: State tax receipts totaled $79.8 billion through the third quarter of State Fiscal Year (SFY) 2022-23, exceeding the latest projections from the Division of the Budget's (DOB) Mid-Year Update to the State Financial Plan by nearly $7.7 billion, according to State Comptroller Thomas P. DiNapoli.
That short term good news will encourage legislators and advocates who want to spend more. That, together with aspirational plans announced by Governor Hochul on mental health, housing, and public safety in her State of the State address (as we discussed in last week's MMM), set up some interesting budget dynamics.
How the LaSalle politics, tightening revenue projections and a clear aversion to spending from the Division of the Budget impact the upcoming Executive Budget Proposal and negotiations with Senate Majority Leader Andrea Stewart-Cousins and Assembly Speaker Carl Heastie through the April 1 start of State Fiscal Year 2023-24 will be the major story line over the next few months.
OD&A 2023 New York State Legislative Session and 118th Congress Preview
In Washington, Treasury Secretary Janet Yellen formally alerted Congressional Leadership that the U.S. has officially hit its debt limit, currently $31.4 trillion and notified them of "the extraordinary measures Treasury began using today." Having reached the congressionally-set borrowing limit, the Treasury will have to rely on cash reserves and suspend investments in things like the Civil Service Retirement and Disability Fund (CSRDF) to prevent the U.S. from defaulting on any payments. An economic downturn, which many experts predict is looming, would cause those measures to be exhausted much faster, adding a heightened sense of urgency to Capitol Hill. 
Raising the debt ceiling to the necessary level was once a routine item that Congress merely crossed off its checklist when it approached the limit. However, it has become yet another political battlefield in the increasingly polarized environment of Washington as of late. In 2011, the U.S. almost defaulted on our debt as a result of a standoff between President Obama and House Republicans. The possibility of default prompted a market sell-off and the U.S. credit rating was downgraded for the first time ever. If the U.S. did actually default on payments, the result would be economically catastrophic.
In 2021, The Council of Economic Advisors from the White House released a report outlining the potential effects on the average American should the federal government ever default on its debt. The report, "Life After Default", found the following: 
The Federal government would be immediately impaired from carrying out its basic functions, including providing the financial assistance that tens of millions of Americans rely on.

The Federal government's ability to provide for the national defense, pandemic response, and day-to-day services would likely be severely hampered. 

Markets and consumers would be hurt by even the threat of a default, much less an actual default.

The consequences of default could accelerate rapidly if not resolved, potentially inducing a global financial crisis and a recession.
Republicans have vowed that they will not agree to raise the borrowing cap unless the Biden Administration and Congressional Democrats make major concessions on federal spending. Rep. Jason Smith (R, MO.), the Chairman of the House Ways and Means Committee, said in a statement, "The American people rightfully recognize that maintaining Washington's status quo, which runs up massive deficits and adds trillions to our national debt, is unsustainable." Democrats have indicated they have no intention of negotiating with Republicans, arguing that an issue this serious and consequential to all Americans should not be used as an avenue to extract political concessions. White House Press Secretary Karine Jean-Pierre said in a press briefing "Republicans are threatening to kill millions of jobs and 401(k) plans by trying to hold the debt limit hostage unless they can cut Social Security, cut Medicare, cut Medicaid." 
The push to enact strict financial reforms was a centerpiece of the deal that House Speaker Kevin McCarthy struck with House Freedom Caucus members to get him over the finish line in the election for Speaker of the House. If those members feel he reneges on that deal in his debt ceiling negotiations with Democrats, they could enact another concession they received from McCarthy, the Motion to Vacate the Chair, in which a single member can force a motion on a vote to remove McCarthy as Speaker. Over in the Senate, Minority Leader Mitch McConnell is confident cooler heads will prevail, saying "In the end, I think the important thing to remember is that America must never default on its debt, it never has and it never will. But we will end up in some kind of negotiation with the administration over what are the circumstances or conditions under which the debt ceiling be raised" and "No, I would not be concerned about a financial crisis." 
OD&A 2023 New York State Legislative Session and 118th Congress Preview
Lastly, if you need another reason to stay away from the cockfighting scene, the New Post shared a cautionary tale out of India….. "Both men — an unlucky spectator and the owner of one of the fighting cocks — bled to death after they were slashed by the feathered combatants, who had sharp knives strapped to their legs by their handlers." 
-Jack O'Donnell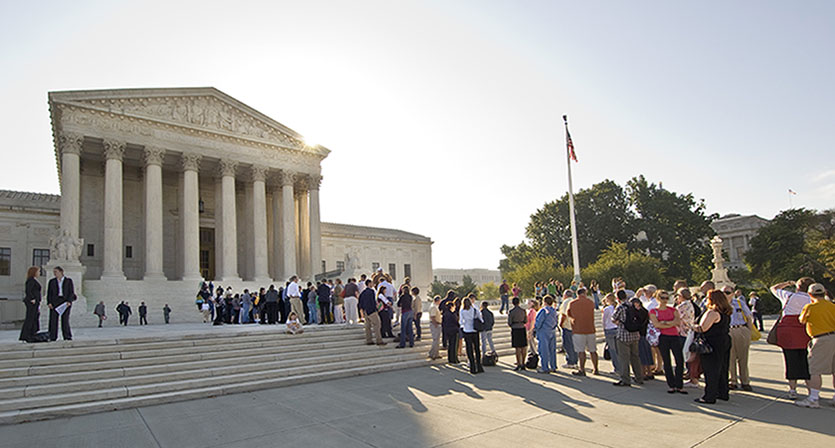 U.S. Supreme Court Grants Review in New Batch of Cases 
The Supreme Court will review how employers must accommodate their employees' religious practices, how courts should decide whether threatening statements are protected by the First Amendment, and whether a local government violated the Constitution when it confiscated and sold a $40,000 home based on the owner's failure to pay $15,000 in property taxes.
[Read more.]
New York Attorney General Hosts Mental Health Forum in Buffalo
OD&A was there as NY Attorney General Letitia James 
brought her 
Mental Health Task Force to Buffalo as part of a statewide effort to examine the gaps and challenges in each region's mental health systems. 
[Read more.]
Nominate Now for

National Irish Arts Awards

in Buffalo
Irish arts fans across America are being urged to get their nominations in now for the Irish Echo Arts Awards which will take place in Buffalo, New York on 28 April. Awards will be presented across a range of artistic and cultural fields including dance, theatre, literature, stage & screen and music. There will also be special recognition for the Irish festivals which are the highlights of the Irish calendar across the U.S. and for the pioneering Irish centers which are the hub of all things cultural. [Read more]