Good morning from New York where State Supreme Court Justice Thomas F. Whelan ruled that Judge Hector LaSalle—and all future judicial nominees—are entitled to a full floor vote before the Senate. Governor Hochul's nominee to lead the New York Court of Appeals was rejected by the Senate Judiciary Committee earlier in the month and Senate Leadership maintained that the committee vote sufficiently satisfied the Senate's "advice and consent" responsibility for nominations as laid out in the state Constitution. In response to the lawsuit filed by Senate Republicans, Senate Majority Leader Andrea-Stewart Cousins held a full floor vote on LaSalle where he was ultimately rejected. 
Many of us thought that vote made the lawsuit moot, but Justice Whelan was, in his words, not content to "grab a box of popcorn and sit back." Whelan found that, "An unnecessary constitutional crisis arose in the past month…To the contrast, the issues are quite easy to resolve. It is time for this constitutional logjam to be broken asunder" and the interpretation of the Constitution by Senate Democrats is "simply unreasonable." If the decision is appealed, it would, by right, end up in the Appellate Division's Second Department where, as we discussed last week, it would be presided over by LaSalle himself. 
Governor Hochul indicated she would not nominate anew until after the state budget process is final. Hochul told reporters that she has had many conversations with Majority Leader Stewart-Cousins and that the rejection has not affected her relationship with the Legislature as they head into the thick of budget negotiations over the next few weeks.  
Will the growing opposition to the natural gas ban have any impact in Albany? 
Where does the Governor's plan stand in the Legislature?
Fresh off of their one-week recess, the Legislature will be back in Albany to continue working out a budget, which is now due in just over a month. The 2023 Economic & Revenue Consensus Forecasting Conference Meeting, an important hearing on the State's finances that will factor into budget decisions, is scheduled to be held tomorrow (more details here).
Attendees include: 
– Sandra Beattie, Acting Budget Director, NYS Division of Budget
– Sen. Andrew Gounardes, Chair, Sen. Budget and Revenue 
– Asm. Helene Weinstein, Chair, Asm. Ways & Means 
– Sen. Tom O'Mara, Ranker, Sen. Finance 
– Asm. Ed Ra, Ranker, Asm. Ways & Means 
– Maria Doulis, Deputy Comptroller, NYS Office of the Comptroller 
Presenters include: 
– Chris Varvares, CBE, Vice President & Co-head US Economics; S&P Global
– Hugh Johnson, Hugh Johnson Economics
– Jason Bram, Federal Reserve Bank of New York
– Kajal Lahiri, University at Albany, State University of New York
The Legislature will also wrap up its Joint Legislative Budget Hearings this week with Higher Education today, Health and Medicaid tomorrow, and Housing and Workforce Development/Labor on Wednesday. From there, both Houses of the Legislature will begin deliberation on their One House Budget Proposals. 30-Day Amendments to Governor Hochul's Executive Budget Proposal—which we expect to be more substantive than in years past—are due this Friday.
All that said, folks in Albany—inside and outside of government—are whispering concerns that the differences between the Executive and Legislature are so deep that the budget process may go well past last year's eight-day delay. Stay tuned! 
In D.C., Senate Democrats' prospects of keeping control of the Senate in 2024 increased slightly following Montana Senator Jon Tester's announcement that he will run for reelection. In his statement, he said "Montanans need a fighter that will hold our government accountable and demand Washington stand up for veterans and lower costs for families. I will always fight to defend our Montana values. Let's get to work." Seeking his fourth term, Tester has shown the ability to win as a Democrat in a deep red state, something that would be hard to replicate for any other candidate had Tester decided to forgo reelection. Republican House Rep. Matt Rosendale has the backing of former President Trump and is likely to challenge Tester despite losing his bid in 2018 by four points. 
Still, Tester will have his work cut out for him. In 2020, President Trump won the state by 16 points and in a presidential election year, turnout is certain to be higher than it was in his 2018 race. Also adding a layer of intrigue, his fellow Senator from Montana, Steve Daines, is the chair of the National Republican Senatorial Committee, which is tasked with electing Republicans to the Senate. Senator Tester has made a name for himself as a moderate Democrat who is not afraid to go against his own party, though not publicly to the extent that Senators Manchin and Sinema do. Tester's personal profile, a working farmer who lost three fingers in a meat grinder, has also helped him earn the trust of Montana voters who may be turned off by traditional Democrats. 
Even if Tester can defy the odds again, Democrats still face a daunting electoral map. Republicans only have to defend 10 seats while Democrats have to defend 23. Two of those Democratic seats, like Tester, are in states won convincingly by President Trump in 2020. Senator Sherrod Brown (D) is up for reelection in Ohio where Trump won by 8 points as is Senator Joe Manchin (D) in West Virginia where Trump won by nearly 40 points. 
In the House of Representatives, Democrats are determined to retake the majority, starting with winning back the seats they lost in New York in 2022. Congressional Democrat's main super PAC, House Majority PAC, announced they are allocating $45 million in New York alone to retake four Republican seats and challenge in two other competitive districts. Across the country, there are currently 18 Republicans representing districts that President Biden won in 2020, six of them are in New York. Mike Smith, the group's President said, "The path to the majority runs through New York. It's not just us seeing it. It is the Republican Party seeing it. It's every donor around the country seeing it." Among the Republicans being targeted are Nick Lalota and Anthony D'Esposito on Long Island, Marc Molinaro in the Hudson Valley, and Brandon Williams outside of Syracuse, who all formed a PAC of their own called "New York Majority Makers." Embattled freshman and serial fabulist Rep. George Santos is also up for reelection in 2024 though he has not indicated if he will run again and GOP leaders on Long Island have said they would support a primary opponent. 
And finally…the northern U.S. in under invasion from "incredibly intelligent, highly elusive" Canadian "super pigs" weighing north of 600 lbs. You have been warned!
-Jack O'Donnell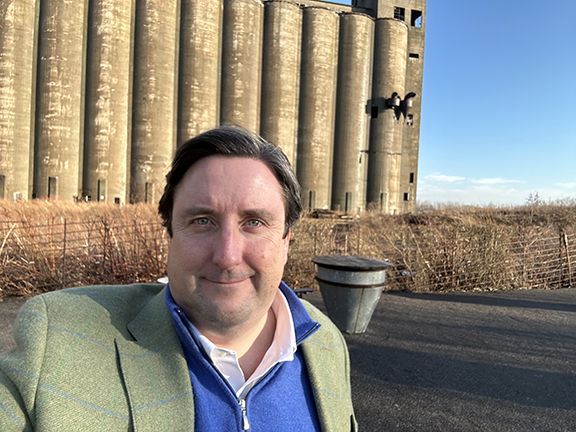 Profile: Buffalo's Jack of All Trades With Finger on Political Pulse
"Look, I'm a lawyer and a lobbyist. I can get a lot of grief…," says our Jack O'Donnell.
The OD&A founder and managing partner opened up to
The Irish Echo
, the oldest Irish American newspaper in the country, about his career in politics, run for office, client wins, lifesaving gift & Irish roots.
New to the NYS Legislature  
Assembly Member Juan Ardila was elected to represent Queens Assembly District 37 in the race to replace outgoing Assembly Member Cathy Nolan last November. During that race, Ardila had secured the endorsements of a number of high profile progressives, including United States House Rep. Alexandra Ocasio-Cortez.  
Assembly Member Ardila is a lifelong Queens resident who is no stranger to public service. He plans to bring a strong progressive voice to the Assembly Democratic Majority this year. As a first-generation American and New Yorker, the son of a Colombian father and Honduran-Cuban mother, Assembly Member Ardila is going to focus on the hardships of working-class families throughout New York City.
Assembly Member Ardila's brings a strong resume to Albany. He spent time in the New York City Council working as a staffer for Council Member Brad Lander. There, Assembly Member Ardila learned about the policy making process, how city government functions, and how to serve constituents. Ardila then worked at the International Rescue Committee, providing at-risk communities the services his family had been denied.
One of Assembly Member Ardila's proudest achievements is helping institute one of the largest and most successful public education programs in New York City's history. As a consultant at the New York City Department of Education, Assembly Member Ardila supported the expansion of universal pre-K and the historic 3-K for All program, working to ensure that New York City's youngest learners had access to free high-quality education. In particular, Assembly Member Ardila focused on the expansion of pre-K Dual Language programs to promote bilingualism throughout the city and serve children and families who speak languages other than English at home. That's because education, especially early childhood education, is vital for setting up children for success and addressing socioeconomic inequality at its roots.
Most recently, Assembly Member Ardila was at the Legal Aid Society, where he worked to ensure that New Yorkers have access to the legal representation they deserve for every issue that matters, from benefits, to disability, to employment. Juan earned his B.A. in Political Science from Fordham University, and his master's degree in Public Administration with a concentration in Public Policy Analysis from NYU.
'The Democratic Party in New York Is a Disaster' 
These days, New York is known as the deep-blue state where Democrats lost four seats on the way to losing the House of Representatives and effectively halting President Biden's domestic agenda for the next two years. Kathy Hochul, who served as Andrew Cuomo's lieutenant governor before accusations of sexual harassment and assault forced him from office in 2021, won the narrowest race for governor in 28 years, beating Lee Zeldin, a Trump-supporting congressman from Long Island, by less than six points.
[Read more.]
Meet Jane Bolin, The First Black Female Judge In The United States
Throughout her life, Jane Bolin just couldn't stop making history. In 1931, she became the first Black woman to graduate from Yale Law School. By 1939, she was sworn in as the first female Black judge in the United States. [Read more.]