Good Morning from New York…

While a number of state races remain to be decided—and we will get to that shortly—a few things are certain: Joe Biden has won the Presidency while Republicans maintained control of the United States Senate (Republicans have 50 seats to Democrats 48) pending two January runoffs in Georgia. Democrats have lost seats in the House, but House Speaker Nancy Pelosi and the Democrats will remain in control. Biden's incoming Chief of Staff Ron Klain again called on the General Services Administration to issue a declaration and begin working with the transition team, saying "Donald Trump's Twitter feed doesn't make Joe Biden president or not president. The American people did that." The landscape for a lame duck session in Washington D.C. is coming into focus with battles on Fiscal Year 2021 Appropriations and a Coronavirus relief package taking center stage. The Senate returned to Washington last Monday, and the House will convene today.  The coming weeks will be dominated by a Trump Administration struggling to come to grips with its final weeks, a GOP Senate asserting itself for January, and a few potential deals at the wire.
With less than one month until funding for the federal government lapses (December 11th)—triggering a potential government shutdown—Senate Appropriations Chair Richard Shelby (R-AL) released twelve appropriations bills Tuesday. Those bills will serve as a baseline for negotiations already underway. Appropriators—including outgoing New Yorker and House Appropriations Chair Nita Lowey (D), in her last appropriations process before retirement—have expressed optimism that they can reach a long term deal. Citing his conversation with House Speaker Nancy Pelosi (D-CA) on Friday,  Shelby told reporters: "She said she'd like to get these bills done. We can do it, we just have to cooperate." However, Shelby still needs to put together a timeline for bringing the bills to the floor and talk to his own leadership, including Majority Leader Mitch McConnell (R-KY), and make a deal.
While Congressional decision-makers are putting their heads together to meet a funding deadline next month, they remain far apart on a Coronavirus stimulus package. Publicly, prospects for a new stimulus bill are about at rock bottom. Democratic Senate Minority Leader Chuck Schumer (D-NY) and House Speaker Nancy Pelosi are holding the line on a $2 trillion package; Mitch McConnell is dug in at $500 Billion. While the two sides have spoken on appropriations (the two conversations are obviously not intertwined, BUT leverage is leverage), McConnell and Pelosi remain at a dead standstill. Behind the scenes, a spark of optimism remains: Pelosi wants a deal this year (before her conference shrinks). McConnell wants a deal this year (before the Georgia run-offs). Significantly, President Elect Biden wants a deal this year (he would not own it and it would give him breathing room in early 2021 while he will be trying to get a Cabinet confirmed). No one knows what President Trump wants . . . or is willing to do. On Sunday, incoming Biden Chief of Staff Ron Klain expressed support for Pelosi's position and criticized the Trump Administration, "She's been at the table. We just don't see the administration; the current administration has walked away from the table. So our message to Speaker Pelosi is keep doing what you're doing to the Republicans. Let's get this done. I mean, this could be a first example of bipartisan action post the election."
Meanwhile, centrists in both Houses are pleading with leadership to come to the middle. Senator Susan Collins (R-ME) said Senate Democrats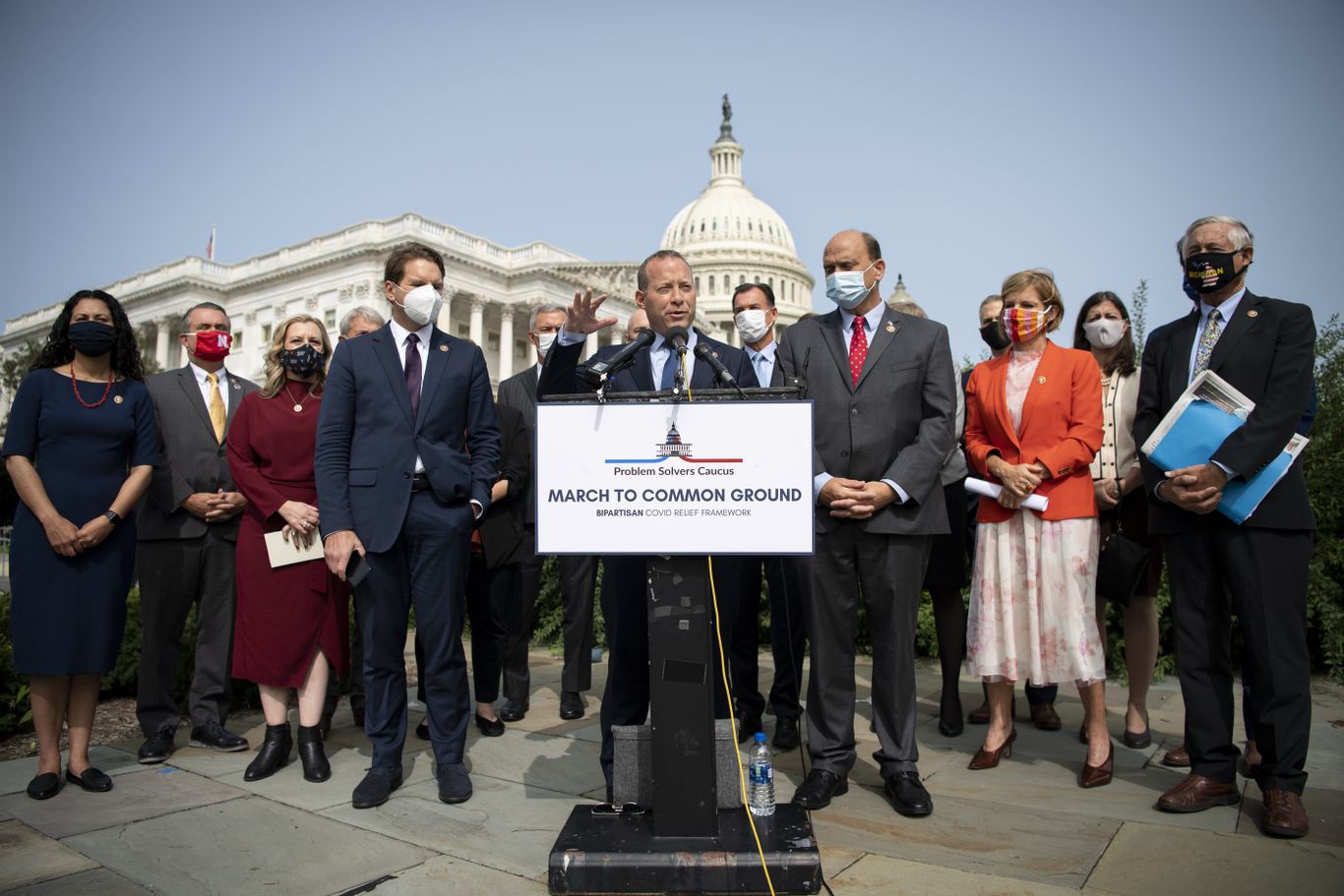 should simply advance the Senate GOP's bill to drive a compromise with the Democratic House. She added that she has talked to Treasury Secretary Steven Mnuchin and he is, "still working it." If the Senate passed a bill, Collins states, "then we could go to conference, as we would have in the good old days, and work out the differences between the House and Senate bills. And that return to normal order, to me, is the easiest route, the quickest route, to getting an agreement." Meanwhile, the bipartisan House Problem Solvers Co-Chair and New Jersey Democratic Rep. Josh Gottheimer—whose compromise proposal was seen by Pelosi as a non-starter and quickly shot down in September—said, "The question is, to do something or nothing. The idea that you'd go back to your district with a lump of coal instead of help for families and small businesses is beyond unacceptable." The battle within the battle between centrists and those who want to hold the party line could be foreshadowing of more intra-party discord to come—and the divisions highlighted in last week's newsletter between the new Progressive wing led by Rep. Alexandria Ocasio-Cortez and moderates clawing back toward the middle.

Back in New York State, where we are waiting on mail-in ballot counts and a federal aid package, much remains to be decided. Mail-in ballot counts began last Tuesday in New York City, after kicking off Monday in some other counties around the state. While a number of key Democrats were behind on Election Day, they are rapidly making up ground, which is leading to renewed optimism amongst Democrats about a veto proof supermajority in the Senate come January. Over the past week, many insiders have boosted their prediction for 2021 Legislative Session from 38 in the Majority to 42 or 43 (in short, enough for a veto-proof supermajority)—the best case scenario for the GOP will be 23 seats.
Here are a few specific updates on tighter races:
On Long Island in the 5th District, Jim Gaughran has won 76% of mail-in ballots thus far and cut his deficit in half. After trailing nearly 8,000 votes Senator Kevin Thomas has won 73% of mail-in ballots and is likely a lock to win with 13,000 mail-in ballots left.

In the Hudson Valley, Democrat Michelle Hinchey has won 62% of mail-in ballots and trails by only 6,000 votes. If she takes back 66% of the remaining mail-in, she will win. In District 40, Senator Pete Harckham is looking good early with about two-thirds of the early counting, but there are a lot more ballots to be counted.

In Central New York, Democrat John Mannion has cut his deficit in half and is only down by about 3,500 votes winning two-thirds of absentees. He can win less than 60% of absentees and still pull off the comeback.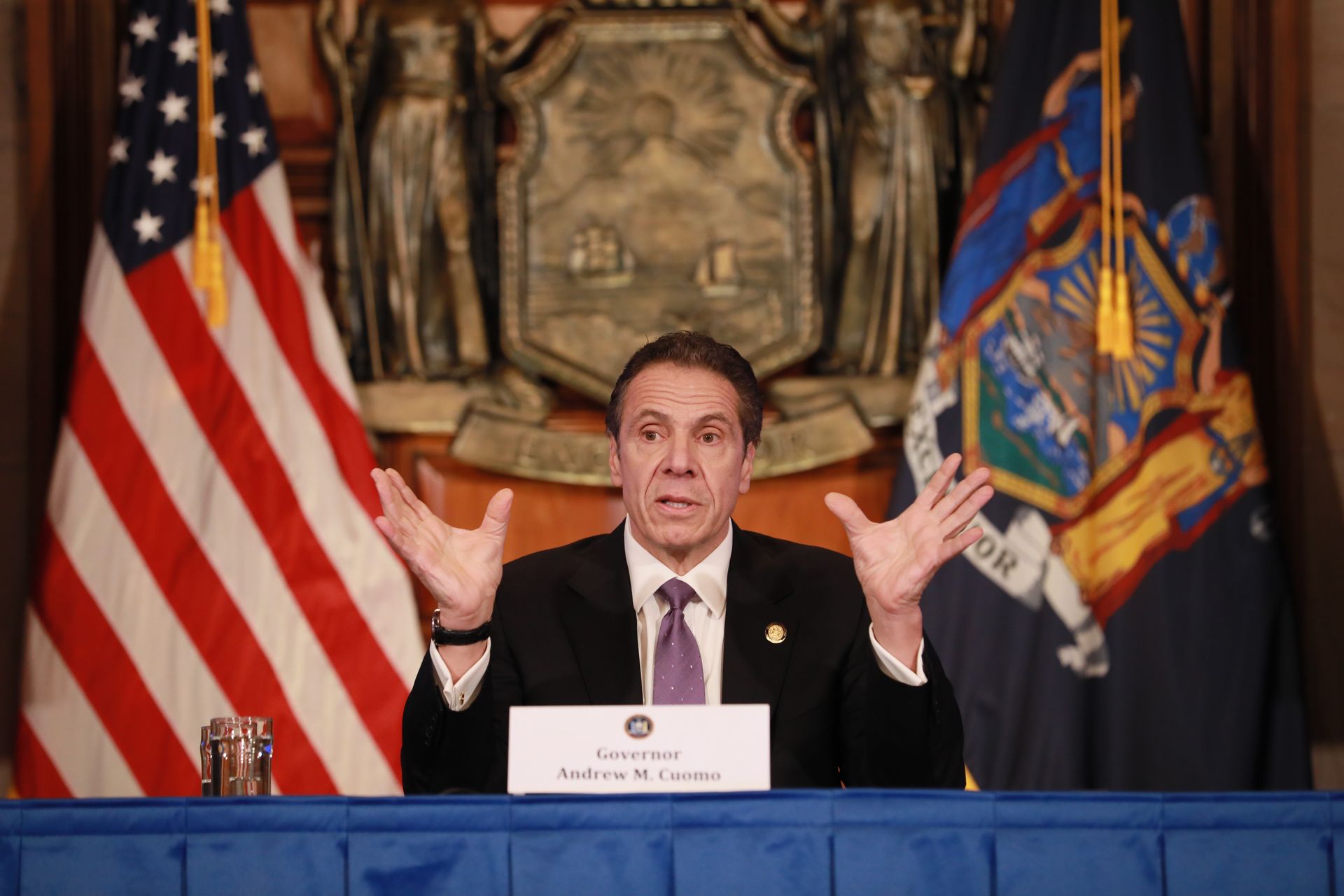 Beyond election results, a number of questions remain to be answered before the end of the year: will the State Legislature return for their own lame-duck session? Will they force the Governor's hand on revenue raisers? Will cuts be made permanent? Will a Federal Aid Package bring some clarity to the State's fiscal decision making? The most likely outcome: lots of speculation and press releases and no action until the Executive Budget is released in January.
Before decision-makers can answer any of those questions, they must once again flatten the curve. The spread of coronavirus in New York has reached levels not seen since the spring, Governor Andrew Cuomo announced new restrictions, including a 10 PM closing time for restaurants, bars, and gyms, and a limit on the number of people allowed to gather in private homes. Criticism came swiftly from all sides, Cuomo and Mayor Bill de Blasio were on the same page. City Hall "fully supports these actions," said spokesman Bill Neihardt. There has been plenty of debate about whether to introduce broader restrictions, but de Blasio said it is "not yet time" to do so. Instead, state and city officials are urging New Yorkers to skip holiday gatherings, avoid traveling out of state, and to keep their masks on. "If these measures are not sufficient to stem the spread, we will turn the valve more," Cuomo said. "If these numbers keep going crazy, you have some scientists who believe we're going to go back a closedown. I'm just praying that doesn't happen."
If Washington cannot come together on a relief package, neither Cuomo and New York City Mayor Bill de Blasio has much of a plan B for New York's immediate fiscal future. "With a Biden victory, we know there will be a state-and-local package, which will go a long way toward handling New York's economic problem," Governor Andrew Cuomo said this week. "If Trump had won, we would be in really deep." As chair of the National Governors Association, Cuomo talks to Republican governors "all day long," he said. "They need a stimulus package. They spent money on Covid, their revenues are down. Trump created the partisan gridlock. Biden, is, by definition, collegial and unifying. And that's going to be all the difference." Cuomo wants something similar to what Democrats in the House of Representatives proposed in their $3.4 trillion HEROES Act. Flexible state and local aid is part of Biden's Build Back Better plan so "educators, firefighters and other essential workers aren't being laid off," according to Biden's campaign rhetoric, which is what the Cuomo Administration said the state needs to avoid massive layoffs and deep cuts to education and other services. But if Republicans and Senate Majority Leader Mitch McConnell retain control of the Senate after January's runoff elections in Georgia—which they are highly likely to do—Cuomo will likely emerge with much less than the $900 billion for states and localities that House Democrats suggested. That means he could be forced to look at "option C: revenue raisers."
The State Legislature has "no definitive plans to have a lame-duck session," State Senate Majority Leader Andrea Stewart-Cousins said. There was a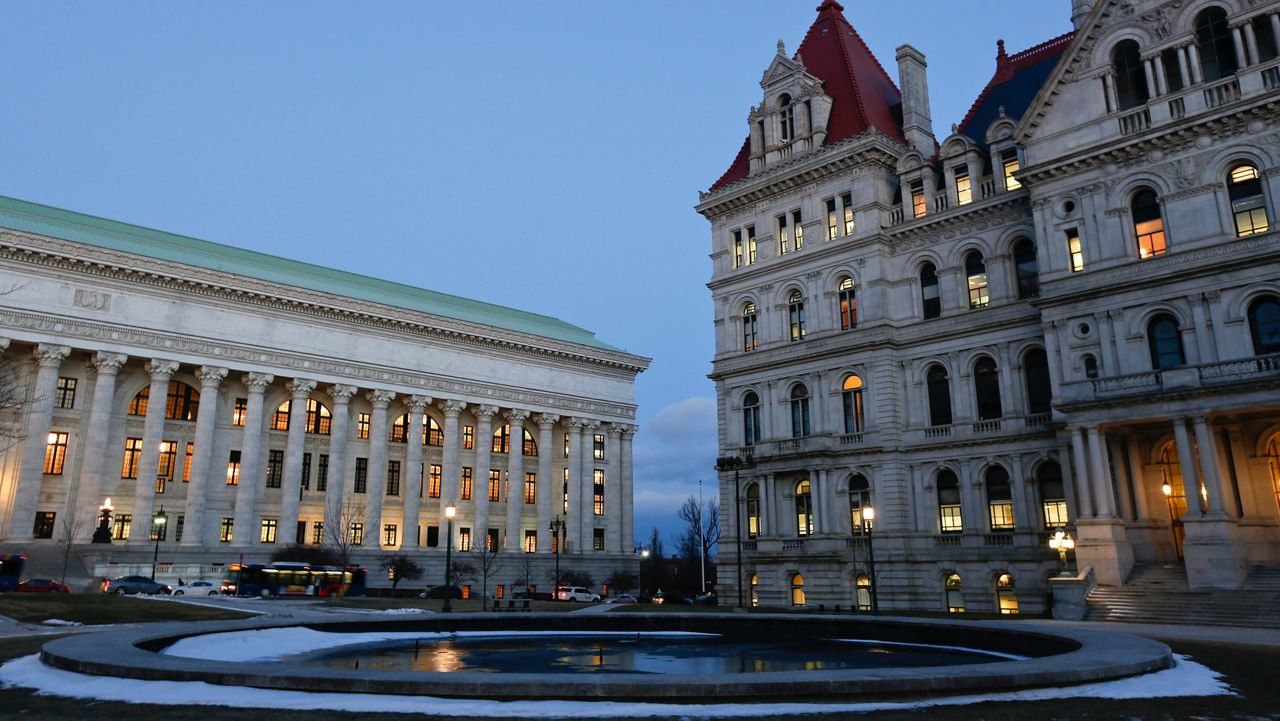 lot of talk in the late summer that the Legislature would reconvene in the fall to deal with recommendations arising from a series of hearings, including urges to consider tax hikes and other measures to deal with COVID-driven budget shortfalls. But Stewart-Cousins suggested that the results of the presidential election make that less of a concern. "I am heartened by the election of the Biden-Harris ticket, because I believe, and the president-elect has said … that he understands the importance of state and local government funding," she said. "It is much more promising than having Donald Trump, who is clearly an adversary."
— Jack O'Donnell

Harris Will Be The First Female, Black And Asian Vice President, But Not The First VP Of Color

Vice President-elect Kamala D. Harris is a trailblazer in many ways. She is the first female vice president. The first Black vice president. The first South Asian vice president. And, perhaps, the first vice president to sport Chuck Taylors. But, as some have mistakenly claimed, she is not the first multiracial vice president or the first one of color. [Read more.]

The New Yorkers Who Could End Up In Biden's Administration

With the election edging into the rear-view mirror, a behind-the-scenes campaign is underway: the competition among President-elect Joe Biden's supporters for spots in his administration. Cabinet appointments, undersecretary positions and ambassadorships all are opportunities for New York's notables to add a new title to their resume and make a career leap. [Read more.]

Toll Collectors Say Farewell: 'It's Been My Whole Life'
By 1 a.m. Saturday, all the toll booths had shut down. Toll-paying will become entirely remote and cashless for the first time since New York's statewide pay-to-drive highway was built in the 1950s. While the switch is intended to emphasize speed and efficiency, it is also a regional farewell to the women and men in the booths who were such a face-to-face part of traveling for many years. [Read more.]

With
 McCartney III
, Paul McCartney Offers Lessons From A Legendary Life
As the world turns inward, trapped inside in various stages of pandemic quarantine, numerous songwriting luminaries (often blessed with their own in-home studios) have tried to use the downtime creatively—from Millennial stars like Taylor Swift and Ariana Grande to longtime veterans like Bruce Springsteen and Elvis Costello. They're now joined by Sir Paul McCartney, completing a trilogy of one-man band, one-name albums with McCartney III. [Read more.]

UB Launches COVID-19 Antibody Study
As Western New York sees a spike in positive COVID-19 cases, researchers at the University at Buffalo are trying to prevent the numbers from getting worse. Dr. Sanjay Sethi, the chief of the Division of Pulmonary, Critical Care and Sleep Medicine in the Jacobs School of Medicine and Biomedical Sciences at UB, said, "If you vaccinate against COVID, the body makes antibodies so what has happened now is that you can manufacture those antibodies in the laboratory, and you can give them to people, and that can help them fight the virus." [Read more.]
Joe Biden's Likely Pick to Lead His Party
First, Joe Biden has to pick his Cabinet and his White House staff. But after that, there's only one name on leading Democrats' list for Democratic National Committee chair: Jaime Harrison, who lost a race for U.S. Senate in South Carolina last week. The next chair will help decide the party's messaging ahead of the 2022 midterms and play a big role in the fight over which states will hold the first presidential primaries in 2024. [Read more.]