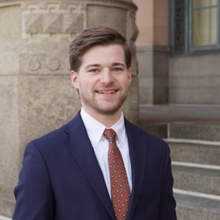 Good morning from Albany, New York... The New York Senate and Assembly released their One-House Budget proposals, offering their official response to Governor Hochul's Executive Budget Proposal. For those wondering about the timeline of the budget process,...
read more
Michael Greco joins OD&A after working in both politics and policy.  From his work with The Advance Group, Michael has experience in local, city, and state campaigns with a special focus on New York City Council campaigns.  He also worked for Congressman Brian Higgins (NY-26), a member of the House Ways and Means Committee.  In the House, Michael primarily focused on legislative issues as well as constituent affairs.
Michael offers our clients strong experience navigating (and advancing) political campaigns measured by a thorough understanding of how legislative priorities are balanced between district and national interests. 
A graduate of the University of Pittsburgh, Michael received degrees in Political Science and American History with a focus on domestic policy.  A native of Buffalo, New York, he splits time between OD&A's Buffalo and Albany offices.  A member of the University of Pittsburgh D1 ACHA Men's Hockey team, he enjoys golf in his free time.