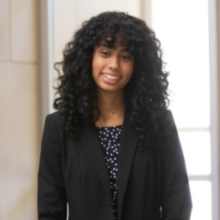 Good Morning from Washington, D.C. Weeks of up and down negotiations between the Biden Administration and Senate Republicans led by Senator Shelley Moore Capito from West Virginia have effectively gone nowhere. Last Thursday, a bipartisan group of ten United States...
read more
Rachel Morris brings a strong passion for policy and government to her work at OD&A.  As an Associate, Rachel offers our clients experience in administration and public service as well as a strong research and policy background including in quantitative and qualitative analysis.
Prior to joining OD&A, Rachel worked in Washington for Member of Congress and Appropriations Chair Nita Lowey and in Rochester for the New York State Division of Human Rights.
A McNair scholar, she holds a bachelor's degree in Political Science from SUNY Geneseo. Rachel will graduate with her Master of Public Administration from Rockefeller College of Public Affairs in 2022 where her studies are focused on health policy. 
Originally from White Plains, she currently resides in Albany.