Makenzie LoPresti
Associate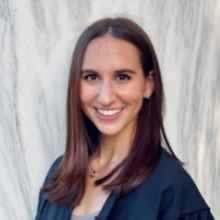 Good Morning from Washington, D.C.... After a nearly 15-hour vote-a-rama over the weekend, the $740 billion "Schumer-Manchin" Reconciliation Bill—dubbed the Inflation Reduction Act (IRA) passed the Senate on Sunday morning. Vice President Kamala Harris broke the tie...
read more
A political science graduate of Union College, Makenzie LoPresti has experience in fundraising and collegiate sports.  She spent time in Member of Congress Paul Tonko's Washington Office (NY-20) where she focused on legislation and issues regarding the environment, health care, and foreign policy.
Makenzie is currently pursuing a master's degree in Public Administration from the University at Albany.  Her studies are focused on New York State's legislative process and the impact of policies on various constituencies.
An Associate in OD&A's Albany office, Makenzie grew up in Woodbury, CT.  She has two brothers and two sisters.  She enjoys running, and spending time with her dogs Mable and Maddox.